A few things that we have done in the past year
South East Region held a poker run to help the Tiny Homes project. They were able to raise $2500 to help provide Tiny Homes for Veterans' Project for the Savannah, GA Housing Authority!!
WA Chapter Just helped to fix up a Navy Veterans house that was in disrepair. Purchased and installed a washing machine for a Vietnam Veteran who needed one. Has purchased and installed a wheelchair ramp for an Veteran in wheelchair after their house caught fire and they had to be relocated to this house that was not handicap accessible. They helped another disabled veteran who's house was in desperate need of a paint job. Last Christmas the adopted a Vietnam veterans family and help provide for a good Christmas for all. Ran a clothing drive to help keep homeless veterans warm during the winter months.
NH Chapter has Donated $2,000 to Mission 22 to help fight the veteran suicide pandemic. They also Helped 2 separate veterans who lost their homes, find new housing and gave them money to help get them on their feet. Rebuilt 2 veterans motorcycles so that they were ridable once again. We donated almost $10k to help a brother who lost his leg and too the 50 Legs organization. We gave an elderly veteran, who was diagnosed with stage 4 lung cancer, a final ride on a motorcycle as it was one of his wishes. We held a ride and raised money for Hidden Battles to help local veterans struggling from their time in the service.
PA Chapter Annually supports the Matthew "Scrapper" Hanes Memorial ROTC Scholarship fund at Dickinson College. WBMCPA was proud to present a check this morning for $11,000 to the Dickinson College 'Blue Mountain Battalion' Army ROTC program. They remodeled a bathroom to help make it more accessible for a disabled Vietnam Veteran. Assisted a Korean War Veteran and his spouse with lawn care while he was recuperating from surgery. They also assisted an Iraq Veteran with groceries and supplies after his home was devastated by fire.
SC Chapter Has donated $750 to Palmetto Military Support Group helping local veterans. Assisted the Patriots Villas Homeless Vet Village by providing bicycle racks and Easter baskets for families housed there. Donated time and food for the Carolina Honda Stuff-a-truck Feed the Vets event. Raised awareness to the veteran suicide pandemic by supporting Mission 22 in various ways.
GA Chapter has been doing a lot with the Homeless Vets Tiny home project in Savannah. We are working with Savannah Harley and the City of Savannah housing authority. It's a big issue finding homes for homeless Vets.
Michigan Chapter keeping the mission alive: Recently put in a wheelchair ramp for a Vietnam Air Force vet here in northern Mich. Tom Stemple has severe Ankylosing Spondylitis, stage 3 OPD and had a stroke a few months ago. He can stand up but can not walk and must use a wheelchair to get around. On top of this his wife was diagnosed with stage 3 breast cancer and has been going for chemo, radiation and surgery. My wife, Special K has been running her to doctor appointment and treatments, cooking food for both of them and delivering meds to their home. With winter setting in the ramp is a welcome addition to their home and something they cannot afford on their own. Feel free to share with everyone. Vets Helping Vets!!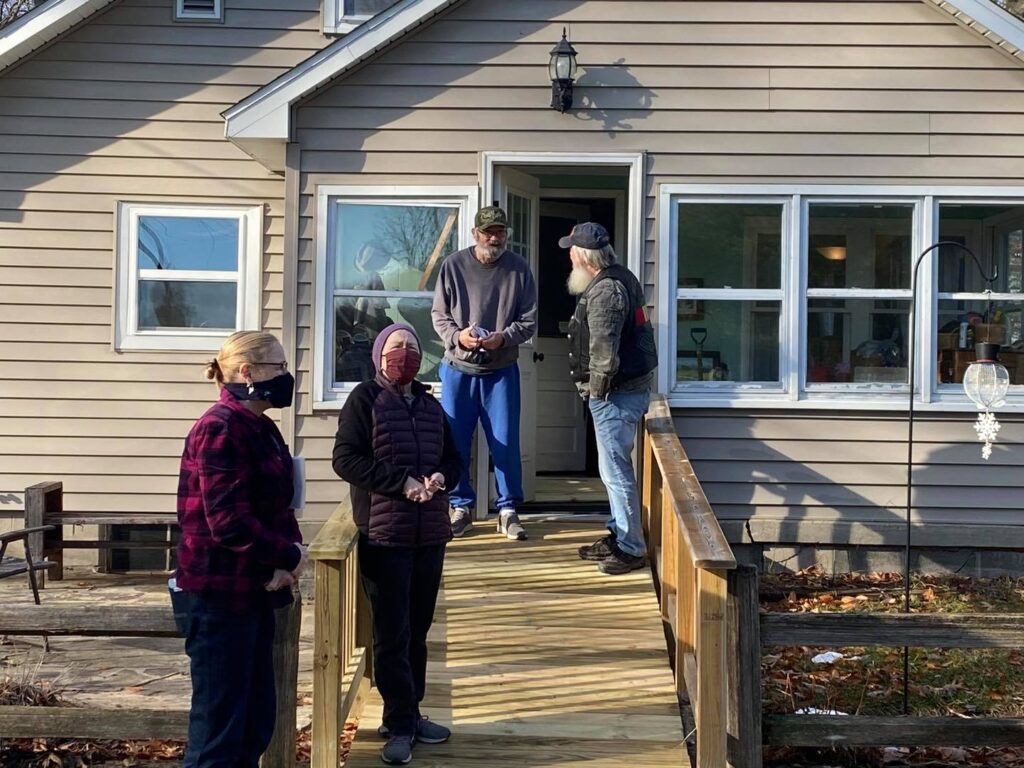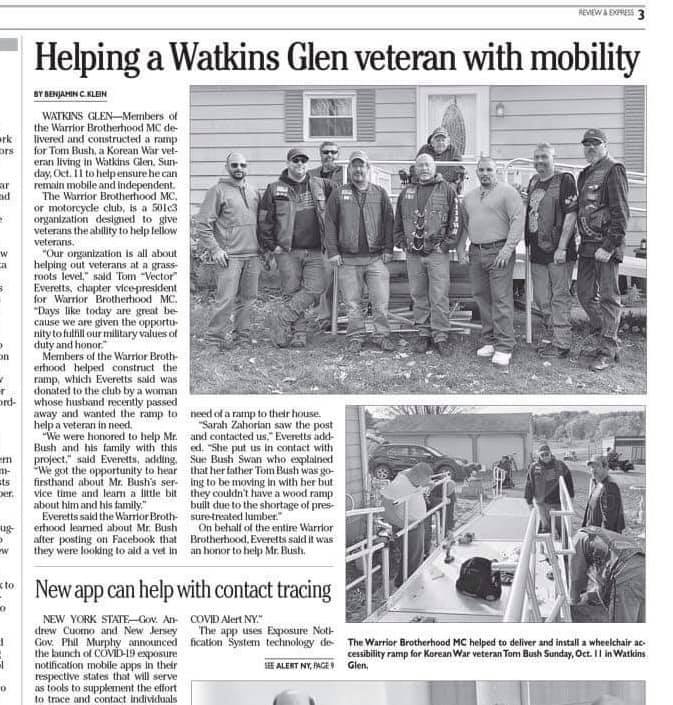 Illinois Chapter dropped off 685lbs of food and tons of clothes, shoes, toys and more to the Midwest Veterans Closet in north Chicago to help local veterans!
PA Chapter does a Turkey drop to make sure Veterans have turkey for thanksgiving!
https://www.wfmz.com/news/area/lehighvalley/2-local-nonprofits-partner-for-turkey-drop-to-help-ensure-vets-families-dont-go-hungry/article_18692f64-432d-11ec-a6bb-33ebd7906d07.html?fbclid=IwAR1-w9rGXgNqQidH9kjTdvWQuGURPeTxcBKr2fS5eWy1gmxceQMi50i2fNs