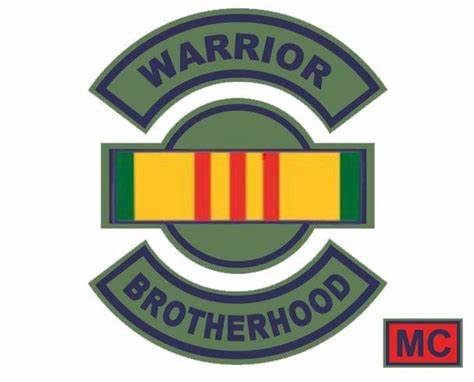 The top rocker identifies us as a member of the Warrior Class. It signifies our adherence to the Warrior Code of Loyalty, Courage, Veracity, Compassion and Honor as important above all else.
As the centerpiece of our colors, we have adopted the shape from the Army Air Corps decision in 1943 to change to this design to be more recognizable from a distance. Additionally, various campaign ribbons and service awards have been added on the "bar" as conflicts evolved to honor the memory of those lost while retaining our shared heritage in it's shape.  We wear it not in recognition of what we have done but in memory of those we served with and lost. We wear the image of our Ribbons earned, flanked on top by the Country of Operation of Combat and on the bottom by our Branch of Service.
The bottom rocker identifies the Brotherhood we share with each other and with our Brothers in Arms who continue to serve today. That serves as the foundation for the Warrior Brotherhood MC.
The blue lettering signifies Loyalty, Compassion, and Honor. The background color harkens to the Combat uniform of the Warrior. The red field of the MC cube signifies Courage, Veracity and the sacrifices of combat and service.